Tech Stack
40 Best Professional Web Design Software Tools for 2023
In this post, we'll explore 40 essential paid and free web design tools available in the market today.
When it comes to web design, things can change rapidly. Not only do design trends change seemingly overnight, but the software we use also comes and goes.
But web development and design aren't going anywhere.
With the rise of the no-code movement (and drag-and-drop everything), today's web design scene can best be described as a race to provide the best flexible, all-in-one design-to-code solution for developers, designers, and small business owners who wear all the hats.
Here at AppSumo, we've put together a list of the best professional web design software and resources available today, sorted by category:
Live on AppSumo
Monetize podcast, blog, and video content on a no-code website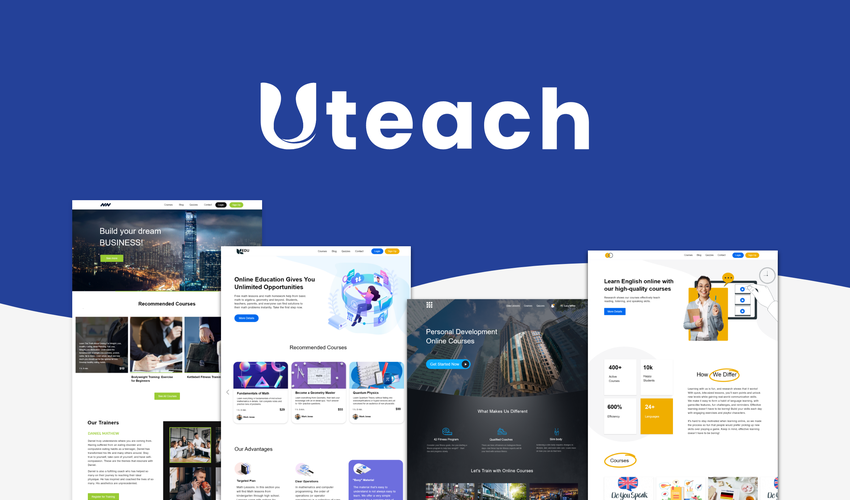 Manage and automate online teaching with a fully-loaded platform
Build professional, custom websites tailored to any client without having to code
Best website builders
Source: WordPress
WordPress powers 40% of websites around the world, and no wonder. This web builder offers thousands of pre-made themes and a high level of customization (thanks to its functionality and 50,000+ plugins), making it a perfect choice when building a website to fit your brand. WordPress also has an excellent content management system (CMS). It's easy and straightforward to publish content in the blink of an eye. And word has it that it's the best CMS for SEO.
WordPress offers a free plan. Paid plans start at $4/month.
Source: Webflow
Webflow is an all-in-one responsive web design tool that folds a CMS, managed web hosting, and free SSL certificate all in one no-code platform. Build interactions and animations into your website, drag-and-drop unstyled HTML elements. Or make use of pre-built elements like sliders, tabs, and background videos. The tool features a master component library of core layouts, components, and patterns. Plus, Webflow gives you the ability to prototype and export code to hand off to developers if you don't want to launch a site on its native subdomain.
Webflow starts free, with plans going up from $12/month on an annual basis.
Source: HubSpot
While most people know HubSpot as a CRM tool, it also offers a free suite of content management tools (CMS) for marketers and developers that are looking to expand their online presence with automated security, SEO recommendations, and more.
Building a professional website is quick and easy using HubSpot's CMS tools with flexible themes, a drag-and-drop page editor, and much more. And unlike many other free trials, features like custom domain and premium hosting are available to you—for free.
HubSpot free CMS tools are, well, free. You will also have access to other HubSpot free tools such as email marketing, meetings, live chat, and more.
SupaPass makes building your website easy with customizable templates and a drag-and-drop editor. Comment functionality, contact forms, and site navigation are built and ready to launch—no coding or plugins required! You can organize your podcast, blog, or video content into Netflix-style topics, instead of dumping everything into one chronological list.
With SupaPass, you'll be able to monetize your content and keep 100% of all sales and patron donations by integrating it with Stripe. From exclusive communities to paid subscriptions, courses, and digital products, you can set up any paywall in seconds.
SupaPass offers a free plan, and its paid plan starts at $49 per month when billed annually. But for a limited time, you can get the SupaPass lifetime deal at a one-time payment of $69.
Source: Wix
Wix is a user-friendly web design software for complete beginners. Don't know where to start? Choose from over 800 templates or answer a few questions from Wix Artificial Design Intelligence (ADI). ADI will automatically build a website based on your responses. To customize it, drag and drop elements on the screen and edit as you see fit.
Wix offers a free plan. Paid plans start at $4.50/month.
Additional options of a drag-and-drop website builder include Boxmode and Webwave.
Source: Ali Abdaal
Ghost is a simple professional publishing platform. In addition to the blogging tool's standard features, Ghost also offers built-in memberships and email newsletters. Other great features include the minimalistic and powerful editor, site speed, and user-friendly and lightweight CMS. If you want to set up a membership website with zero hassle, look no further!
Ghost offers a 14-day free trial, with plans going up from $29/month when billed annually.
Best web editors
Dreamweaver is a simplified coding engine allowing a real-time preview of your content as you made edits to the code. Start your next responsive website project from a template or build from scratch. With Git support and code hints, you can custom-build all kinds of HTML assets like emails, eCommerce sites, portfolios, blogs, and more.
Start with a 30-day free trial. Plans start at $20.99/month or $52.99/month for the entire Adobe Creative Cloud when billed annually. (Prices vary for students, teachers, and businesses.)
RapidWeaver is a native web design software exclusively on and for Mac. Choose from 50 built-in or over 100 community-built themes, and instantly see how your designs will look on various Apple devices. The software integrates with Unsplash and has a big focus on giving you SEO-friendly code.
RapidWeaver has a free trial. Download it for $84.99.
openElement is a free WYSIWYG web editor with a whole host of editing features that support many different page elements such as text, images, tables, lines. Some web elements are even drag-and-drop. Users praise it for being lightweight and SEO-friendly. 
openElement is free.
Atom is an open-source hackable desktop code editor from GitHub. Use this tool to access thousands of open source packages, explore text editor themes built by the Atom community, and work in CSS, HTML, and JavaScript. You can also run Teletype for Atom to share workspaces for synchronous code editing.
Atom is free.
CoffeeCup HTML Editor was built for WYSIWYG precision and excellence. Work from scratch in HTML, CSS, and PHP, or choose from an existing theme. Use the "Open from Web" option to take any website as a starting point for your new design. With a components library, code validation tool, and live preview, you'll have your next web design up and running quickly.
Try CoffeeCup for free or buy it for $29.
Sublime Text is a cross-platform source code editor compatible with Mac, Windows, and Linux.. It supports many programming and markup languages natively.
You can download and try Sublime Text out for free. The personal license costs a one-off purchase of $80. And the business license starts from $65 per year for up to 10 seats and get cheaper as you get more seats.
Best web design software for ecommerce
Source: SquareSpace
Squarespace is a feature-packed website builder with 100+ flexible designer website templates. It offers customer account functionality for online stores as well as inventory management, discount codes, and abandoned card recovery. This site builder is gorgeous, so if you're looking for flawless layouts and bleeding-edge artistic vibes, Squarespace may be the right ecommerce site option for you.
Squarespace starts with a 14-day free trial and moves up from $12/month yearly from there.
Source: Shopify
Shopify is quickly becoming the go-to digital storefront platform. Every Shopify store comes with an SSL certificate, and you can buy domain names directly from them. The team is continually revising the shopping cart experience. That way, they can help reduce cart abandonment and give store owners and drop shippers the flexibility they need to dynamically determine shipping rates, taxes, and more. Shopify also has a suite of marketing tools and mature third-party integration ecosystem to help you sell more.
After a free 14-day trial, Shopify starts at $29/month. There's also Shopify Lite for $9 per month for pre-existing websites.
BigCommerce is an enterprise ecommerce solution.  For smaller businesses, there's BigCommerce Essentials, which offers responsive designs, no-code editor, advanced product search, and CRO tools – including an abandoned cart saver feature. Plus, choose from a vast  variety of payment gateways.
BigCommerce Essentials starts with a 15-day free trial and goes up from $29.95/month.
With over 40M sites, Weebly is Square's powerful drag-and-drop website builder that's doubled down on eCommerce features in recent years. Choose from template designs and get all the brand assets you need to launch your site quickly. Weebly also has abandoned cart and welcome email features, dynamic shipping pricing, and inventory tracking. It's a website builder at heart, so you'll have access to more themes and a lot of easy, user-friendly design functionality for putting your site together as you want it.
Weebly starts free and moves up from $5/month annually.
WooCommerce is an open-source ecommerce platform by Automattic, making it a great choice if your website is on WordPress. Select a theme in the marketplace and customize it to fit your brand. Add products, customize your tax system, and automatically generate an invoice. This plugin can do everything an ecommerce store needs. Its intuitive interface allows you to set up a store in minutes with no coding required! 
WooCommerce is a free plugin. Pay 2.9% and $0.30 for each transaction made with U.S.-issued credit or debit cards. Non-US cards cost an additional 1% fee.
Best web design software for interface and prototyping
Lunacy is a free desktop app for UI/UX design that works on Windows, macOS, and Linux. It has everything to create and test prototypes—all in one place. There is a large selection of graphics assets, including photos, vector and 3D illustrations, icons, and ready-made UI kits for Apple, Google, and Microsoft, that will help you create high-fidelity prototypes.
It's free to use Lunacy. Paid plan starts at $4.99 per month.
EpicPxls gives you a quick mockup superpower with easy, downloadable premium design assets. Choose from a well-curated selection of beautiful UI kits and website design templates in various common file formats. You can also download from a library of fonts, graphics, and icons. Preview zip files and make sure your design is in the right format. After you download the zip, create your customized site or app.
EpicPxls starts free. Paid plans start at $22/month for 20 downloads. Grab the $39 EpicPxls lifetime deal, available for a limited time in the AppSumo store.
Startup 4 is a free drag-and-drop bootstrap theme builder. With its customizable blocks, you can easily create websites fast, even if you have zero programming skills. Select a style and drag it to the canvas to customize it. Pick your favorite font from Google Fonts (it's integrated with the editor), then export it in HTML, CSS, and JavaScript to launch it.
It's free to use Startup 4. Paid plans start at $21/month when billed annually.
Adobe XD is the standard in UX/UI design that allows collaborative design and prototyping of intuitive web pages, apps, and much more — including voice interfaces! Add animations, build design systems, and build responsive web designs with content-aware layouts, responsive resize, and set reusable states for various components. 
Adobe has a free starter plan. Pricing starts at $9.99/user per month or $52.99/month for the entire Adobe Creative Cloud when billed annually. (Prices vary for students, teachers, and businesses.)
Figma's strength is that it's a web-based app with auto layout, asset libraries, and shareable prototyping features. Never worry about losing a thing with auto-save. Add as many team members as you want as free "viewers" to get stakeholder feedback via comments on your design. Sketch and Figma share some plugins and integrations, so you can often find that additional functionality — or even build it yourself — if you need it.
Pricing starts free for three projects with two editors and scales up to $12 and $45/editor per month (when billed annually) from there.
Sketch is a leader in the web design world, a "digital design toolkit" with interactive prototyping, smart layouts, and a vast library of integrations and plugins. Right now, the software just launched "Sketch for Teams," which allows user experience designers to share and collaborate on workspaces. Unfortunately, as a native Mac app, you'll need to be Team Apple to enjoy all the ease of use and functionality Sketch has to offer.
Sketch offers a 30-day free trial. You can get it for $99, but you'll need to renew your license every year to continue to receive updates.
With InVision, it's easy to collaborate on design. Use InVision Freehand to brainstorm and create wireframes and discuss with your team on the online whiteboard. This digital product design platform's a paradise for designers who value creative freedom. InVision Studio also offers smart-swipe transition and animation features.
InVision offers a free plan. Paid plans start at $7.95/user per month when billed annually.
Best web design software for marketing
Google Web Designer helps you make interactive HTML5-based ads, designs, and animations. From static cue cards to 3D images, Google Web Designer is the go-to tool for creating motion graphics for today's digital advertising and marketing collateral.
Plus, it's free to download and use.
Source: Leadpages
Leadpages may be better known for its landing page builder, but as you navigate it, you'll see it works just as well for full-on websites. Leadpages offer conversion-driven features such as one-click sign-ups and alert bars, making it a no-brainer if you want to attract quality leads everywhere on your site. It also provides many high-converting and mobile-responsive templates with no coding requirements.
Start your Leadpages free trial for 14 days. Paid plans start at $27/month when billed annually.
Source: G2
Where to begin with Instapage? This advanced landing page platform is so user-friendly and powerful that both non-technical folks and developers can use it. Fan-favorite features include dynamic text replacement and A/B variation testing. Instapage makes it fuss-free to personalize the user experience and conduct rapid tests to uncover your best-performing landing page.
Instapage offers a 14-day free trial. Paid plans start at $149/month when billed annually.
ClickFunnels is a sales funnel builder for entrepreneurs. Select a pre-designed template and start building your funnels with the drag-and-drop editor. It's easy to build your sales process, as ClickFunnels removes all the guesswork. Read the reviews online, and you'll see the tool's best feature is its resources. When you sign up for the Platinum or Two Comma Club plans, you'll have instant access to online courses, training, and weekly peer review hackathons.
ClickFunnels offer a 14-day free trial. Paid plans start at $97/month.
Best graphic design software
Source: Pixelied
Pixelied is a design tool for small business owners. Use the advanced editor to resize visuals, add typography, and remove background. Select a use case and your favorite template! It's insanely easy to customize it. Pixelied also offers four million+ royalty-free stock images from Unsplash and 1000+ illustrations. You can even upload SVG/vector files and edit them within the platform. Pixelied may not be as popular as Canva for now, but we have a feeling it's going to take the graphic design world by storm.
Start free with Pixelied. Its paid plan costs $7/month when billed annually. Grab the Pixelied lifetime deal on AppSumo today for $59.
If you're making graphics for the web or social media today, you've likely used Canva. With easy drag-and-drop layouts, you can build everything from branded Instagram story graphics to book covers. Canva is a graphic design goldmine with millions of stock images, vectors, and illustrations, photo filters, and hundreds of free fonts, icons, and shapes.
Canva has a free version. Plans start at $9.95 per month.
We've also written in-depth about Canva alternatives, so be sure to give that post a read if you're searching for just the right tool.
Crello is an intuitive online design editor for graphics and videos. It's packed with over 30,000 templates and 250 fonts and millions of stock images. Select a pre-made template and customize it with color swatches, lines, text boxes, and more. Add animated graphics to bring your static visual to life. This popular Canva alternative also offers 50,000 free video clips, making it a great tool to use when creating video assets.
Crello starts free, with paid plans at $7.99/month when billed annually. Grab the Crello one-year deal on AppSumo today for $67.
The leader of digital imaging, Adobe Photoshop offers a plethora of tools ideal for any design stage. From creating concept art and combining photos to removing flaws and manipulating images, Photoshop can do it all. However, its state-of-the-art features come at a price (users report the steep learning curve), this industry-standard is more suited for professional designers.
Adobe Photoshop offers a seven-day free trial, with paid plans starting at $20.99 /month or $52.99/month for the entire Adobe Creative Cloud when billed annually. (Prices vary for students, teachers, and businesses.)
Adobe Illustrator is a vector-based graphics software. This versatile platform offers excellent tools to help you create beautiful illustrations. Create mirror images in a click, turn shapes into logos, or draw freely!
Adobe Illustrator offers a seven-day free trial, with paid plans starting at $20.99 /month or $52.99/month for the entire Adobe Creative Cloud when billed annually. (Prices vary for students, teachers, and businesses.)
With DesignWizard, you can create videos and image designs in minutes. The free features allow you to magically resize your designs. You can also upload fonts, photos, logos and create custom color palettes. The library holds over one million premium images and thousands of high-quality videos. Every video and image has also been licensed for commercial use!
The Pro plan, starting at $7.42/month when billed annually, gives you 60 image design downloads per month, image and font uploads, free previews, and 1GB storage.
Best design resources
Source: FreshStock
FreshStock, a stock vector library, is an asset for graphic designers. Known for its socially-inclusive images, FreshStock is excellent for small businesses that want easy access to quality graphics without the expensive price tag. Spot a specific design that would go great with your brand and want to create a series around it? Hire the designer who drew it. Click the button on the right to get in touch instantly.
FreshStock offers a free trial for seven days. Sign up for the paid plan at $42/month annually, or grab the FreshStock one-year deal on AppSumo today for $69.
Source: Muzli Colors
Muzli Colors is a color palette generator by InVision. Enter your color code, select an initial color, or upload an image if you don't have access to the color codes. Muzli will generate a palette based on the uploaded image and show you how your dashboard will look on its live UI kit demo, saving you time from unnecessary color combo testing.
Muzli Colors is free.
Google Fonts is a library that offers 1043 free licensed font families. Select a font from the list, input your text, and adjust the font size. The tool instantly generates various styles and suggests other fonts that pair well with your selection. Copy the code in HTML and CSS, and voila! You can immediately start using them.
Google Fonts is free to use.
With over a million free photos, Unsplash is the ultimate choice for entrepreneurs, creators, and marketers on a budget. Its sheer number of high-quality photos and range of categories is impressive. From architecture and nature to people and interior design, you're bound to find a picture for your needs. Whether you're looking for a background for your homepage or a stock photo to accompany a blog post, this is a must-have resource.
It's free to use Unsplash.
Generated Photos offers free model headshots created from AI. It's easy to find what you're looking for. Select your criteria (e.g., gender, ethnicity, emotion) in the filters and pick whichever fits your business.
Generated Photos is free to use.
Known for its experimental design, Awwwards may not be ideal for technical companies (think: B2B SaaS). Other than that, it's a handy resource if you're looking for the latest design trends and using them to inform your creations!
That's it! What are your favorite web design tools and software for 2023?