Remote Academy, Remote Work
Your Work from Home Workout [Webinar with Eric Rakofsky]
You don't need to head out to the gym to get a good workout. Health & wellness coach Eric Rakofsky shares home workout tips to stay fit right by your desk.
BONUS MATERIAL: REMOTE CONTROL PDF
Get actionable advice from industry experts on topics from marketing to productivity.
Download Now
These days, it's hard enough to adjust to your new work-from-home flow.
But with recent gym closures—from large national chains like Equinox to apartment complex gyms—you may be wondering how to keep up with your fitness goals.
In many ways, staying fit and maintaining normalcy is more important now than ever before.
Luckily for us, there are experienced trainers like Eric Rakofsky to help. (He's trained everyone from athletes to celebrities like Arianna Huffington!) 
Chris from AppSumo spoke with him as part of AppSumo's free Remote Work Academy.
PLUS, see below for a link to an exclusive offer from Ladder, an app that gives unlimited access to a certified personal trainer who will create custom workouts.
---
How to Stay Fit at Home While Quarantined
Functional Movements You Can Do in Your Desk Chair 
The biggest problem with desk jobs is "the hunch." You know it all too well (and you may be doing it right now): shoulders caved forward, arms on the desk, fingers on the keyboard… pure spinal misery.
Here's what you can do to combat it.
Start with a Posture Check
Find a neutral, sustainable position for your spine. It's important not to over-extend your thoracic spine and mid-back. Move around and play with it—find what's neutral and sustainable for you as you sit in your chair.   
Set a 15-minute timer. Every time it goes off, do these three stretches:
Stretch 1: Seated Glute/Piriformis Stretch & Rotation
Your back can get stiff throughout the day because your glutes tend to fall asleep. (Who knew?!)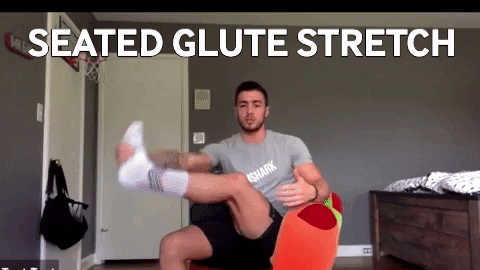 Try it:
From that neutral spine position, take your leg and cross it over your knee. 
Do the neutral posture check again and then lean forward: you'll start to feel the stretch in your glute and piriformis (deep glute muscle). 
If you want to continue from there, take your hand, nice and easy, and reach to get some mid-back rotation. 
Breathe in, think about life. Eric likes to do about 3-5 breaths in each movement. And that might even start getting your blood flowing—maybe even your heart rate up a little bit.
Stretch 2: Wrist Flexion & Extension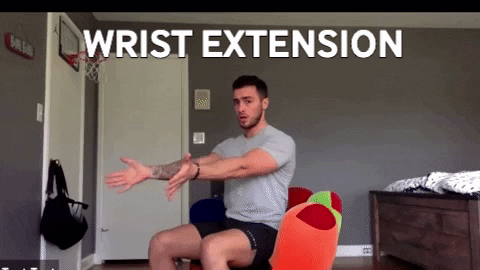 Try it: Stretch your hands out in front of you, set your shoulders back and down—then just reach across the room and spread your fingers wide to release and get some blood flow. 
Once that starts to build, turn your wrist over, palm away from you to stretch your wrist for 3-5 breaths each: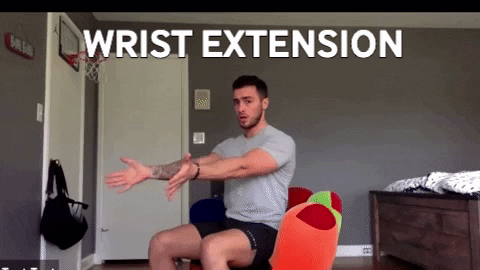 You can also do the same thing with your palms faced toward you.
Stretch 3: Neck Flexion, Extension, & Rotation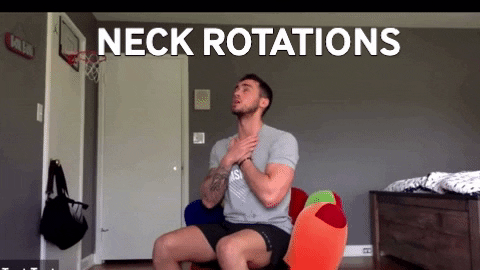 Try it: Go back to that neutral spine position, put your hands under your neck (on the inside of your clavicle bone) and look up a little bit. Just stretch your neck and relax the tension you may be holding there. Then rotate your neck side to side.
If you have time, you can also jump up and do 15 seconds of jumping jacks, pushups, and squats. 
This is a really good way to keep mind, body, spirit alive while you're at your desk. And you'll be surprised at the end of the day how many reps you got in.
Remember: Hydrate! Water is also a part of that 15-minute rule.
---
Simple Home Workout Targeting Key Muscle Groups
Here's all you need (optional): a bag with some stuff in it (shoes, books, clothes, etc.) and a hoodie or towel. 
For these, do each of the 3 exercises for 30 seconds (90 total) and then rest for 30 seconds—and repeat 3x.
1. Prone Isometric Pull-Ups (With Hoodie or Towel)
Muscle groups: Upper back—lats, rear delts, etc.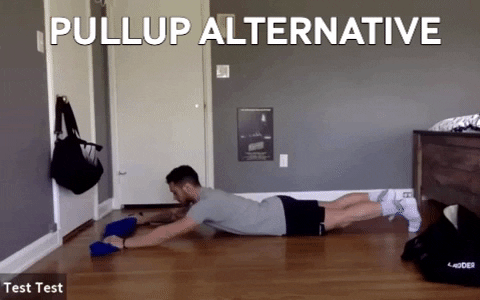 Try it: Grab the ends of your hoodie (or towel). The idea is to try to rip it apart while mimicking that pull-up motion, so you're retracting in your upper back and pulling the hoodie toward your chest. 
Lift the arms up, along with your chest, so your back starts to fire up. Lift the feet, squeeze the glutes, and then pulling the hoodie outwards, squeeze and draw it into your chest.
2. Bag Plank With Pull-Through
Muscle groups: obliques, core, arms, and shoulders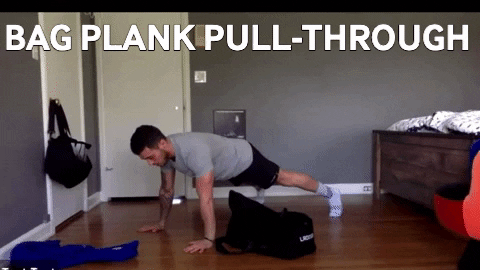 Try it: Hold a push-up stance with the bag outside of your left side-body. If you need to, you can put your knees on the floor. Without shifting or rotating your body side to side, reach and pull the back through, under your body, and switch sides. 
3. Bag Squats
Muscle groups: Quads, hamstrings, glutes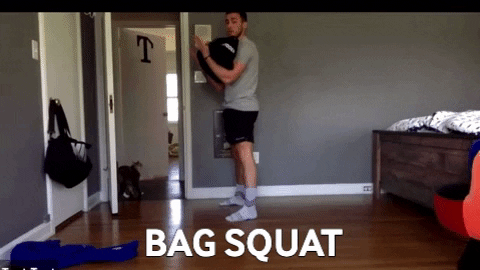 Try it: Grab your bag, wrapping your arms underneath it, so it rests on your forearms with your elbows upright. Squat and pop up. Make sure your heels don't come off the ground (to protect the knees). The solution is to widen your feet if needed or try the easier modification below.
Easier modification: Grab a chair, sit back into it, and stand back up—nice and easy.
Harder modification: Squats with a two-second hold and a jump on the pop-up.
---
Coming Out of Quarantine With a 6-Pack 
You know what they say: abs are made in the kitchen. Eric recommends using this opportunity to start journaling what you're eating and drinking a lot of water.
Hollow Body Hold With Optional Rock 
Try it: Set the timer for 30 seconds. Lay on the floor and come up into a crunch position, abs engaged. Next, lift your legs straight out at a 45-degree angle. Make sure you can't fit your hand under your lower back. Keep your lower back close against the floor. 
Hold your arms and legs out, and hold. You can also bicycle to come up and sweep your toes back and forth. 
Extra Thoracic Stretches
T-Spine Reach Through to Rotation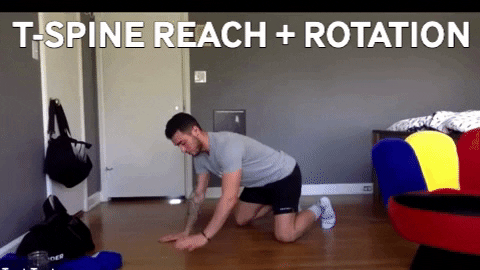 Try it: Hands and knees position: spread your knees wider, take a hand, and slide it through the ground. Then come up and raise that hand toward the ceiling. Pair that with some cat/cow exercises.
Final Tips
If you're just starting out, don't go hardcore. If green is walking, yellow is jogging, and red is sprinting, you don't want to live in the red. 
When you're living in the red in workouts and life, you run the risk of not staying the course. 
You should aim to live in the yellow, and touch the red during your workout to build endurance for high-stress moments. Eventually, what used to be red will become the new yellow—and you can build from there.
Meet Ladder
Ladder is a personal trainer in your pocket.
After sign-up, you'll:
Get paired with a certified personal trainer

Share your current needs and setup—and set personal goals together

Learn from how-to workouts and movements that your trainer creates  or you

Chat with your trainer in the app (you can also exchange pics or videos) 
You can also record your nutrition, activity, water, habits, etc. in the app. All of the workouts have high-res videos paired with them, so you can track workouts and check off each item after you do it. 
Here's an Exclusive 25% Off Ladder for AppSumo's Remote Work Academy. 
Eric's message: You're worth that kind of customization and personalization—some universal workout apps and resources may help, but they're not tailored to your goals. Taking advantage of a customized program that is designed with your unique goals in mind will help you maximize workouts and get the most out of your time.
—
About Eric Rakofsky
Eric Rakofsky is a Ladder health & wellness coach, amateur boxer, and entrepreneur. Raised in Brooklyn, Eric discovered his passion for boxing in 2003. Training at the iconic Gleason's Gym, the oldest boxing gymnasium in New York, gave Eric a foundation and credibility within the boxing community. After competing in his first Golden Gloves tournament, Eric's fitness career quickly took off with an opportunity to train in New York City's West Village model magnet gym – Gotham. Since leaving, Eric has continued to build his brand. He currently trains everyone from celebrities (like Ariana Huffington) to athletes to novice fitness clients in NYC.
Want to make the most out of working from home? AppSumo is running a FREE live Remote Work Academy for the next few weeks! Register here.